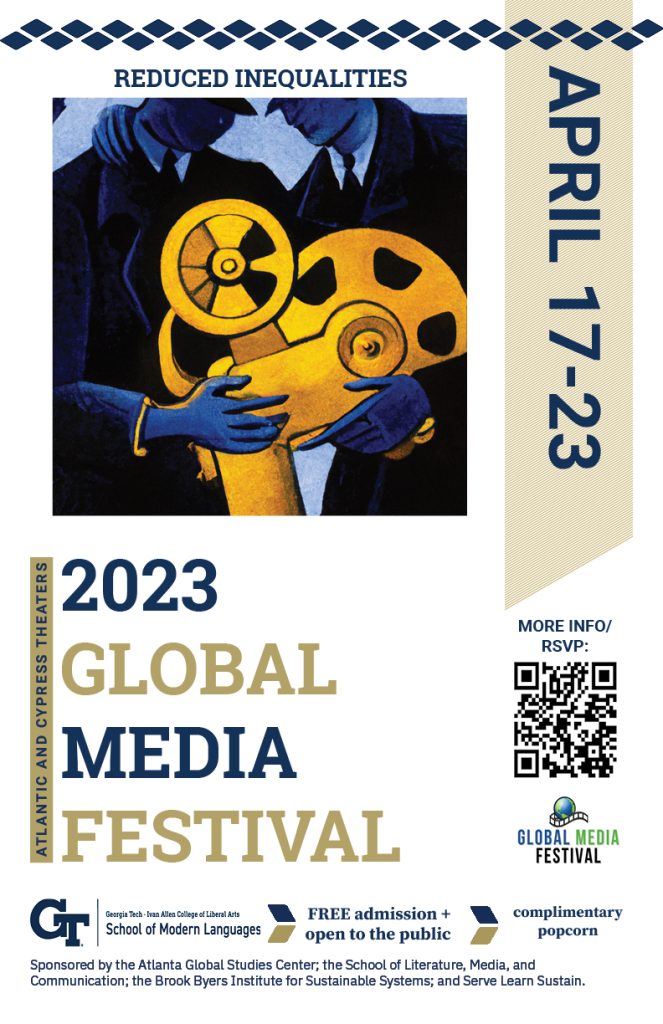 The 2023 Global Media Festival, Georgia Tech's annual film and discussion series focusing on sustainability across languages and cultures in Atlanta, Georgia, explores the theme "reduced inequalities within and among countries" (# 10 of the UN sustainable development goals). This year, the festival will run from Monday, April 17th to Sunday, April 23rd, 2023. ALL SCREENINGS ARE FREE AND OPEN TO THE PUBLIC! They include complementary popcorn (and many of them catering). All events will be in Atlantic and Cypress Theaters at Georgia Tech's Student Center.
Director of 2023 Global Media Festival: Paul Alonso
Assistant to the Director: Ann-Marie Sills
Link here: https://globalmediafest.modlangs.gatech.edu/
The 2023 Global Media Festival will include screenings of international films from Peru, France, China, Germany, Japan, and Brazil and Q&A with directors and discussants.
2023 Festival Highlights
The 2023 Global Media Festival is sponsored by the School of Modern Languages; the Atlanta Global Studies Center; the School of Literature, Media, and Communication; the Brook Byers Institute for Sustainable Systems; and Serve-Learn-Sustain.